What Our Customers Say…
Automotive Lubes
X-REV Additives and Lubricants are suitable for all vehicle and engine types (regardless of age or mileage) as there are different grades to match every engine requirement for better protection and enhanced performance.
Check out the following video on a servicing done on a Lamboghinin Gallardo using X-REV Racing Lubes.
X-REV TRACK 50 ZeroFriction is the new choice of Track enthusiasts.
A group of turbo-charged trackies from Traction Circle and SG Trackies tried out the new X-REV TRACK 50 with ZeroFriction at Sepang on Nov 12 and discovered for themselves that purpose-built track lubricant totally delivered where it mattered most – on sustained high boost to the redline…again and again!
When I drove out of the workshop after the oil change, wow – immediately I can feel my engine is running smoother & quieter! The engine is not so rough & tight. I¹ve used so many well known brands without any distinctive feel but this oil is really something different! In my drive to Sepang, I did a "rolling drag" with my friend who was driving he¹s brand new EVO X. I could definitely feel the extra torque in acceleration. My friend was surprise that my 2 year old EVO was able to pull much better than his! We hit 240kmph and then we slowed down to cruising speed. We did this 3 times & I¹m convince this is no ordinary engine oil! The oil temp maxed at 120 deg C, about 5-10 deg C cooler than normal. I would highly recommend X-REV Track 50 with ZeroFriction to all my driving buddies. Two thumb's up!!!
Jeff (Evo)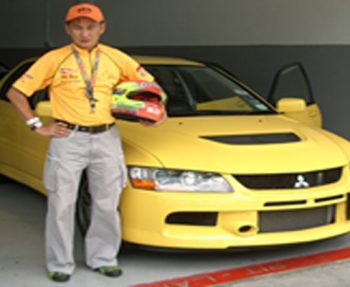 Oil temp on hard driving was pretty good! I hardly breached 100 deg C after 3 hard laps on Sepang (about 10 Deg C lower than normal – with oil cooler). The engine was definitely quieter than usual and it revved cleanly to the redline again and again.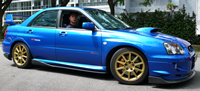 The engine definitely runs smoother with better low end torque. Oil temp is also about 5 deg C cooler on the track.
Desmond (S15 Silvia)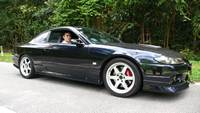 X-REV Racing 15W-50 ZeroFriction Street Turbo – Nearly Street Legal!
My observations after switching to the new X-REV 15W-50 ZeroFriction engine oil for my 3-year old Evo:
1. Average oil temperature on highway is 90 degree Celsius on a hot afternoon.
2. When driving hard, oil temperature hovers between 90 to 100 degree Celsius. (compared to other oils – normal driving on highway is about 100 degree Celsius and when driving hard the temp is about 110 degree Celsius+.
3. Significantly noticeable is a quieter engine and reduced tappet noise.
4. Revving up the engine is a lot smoother.
With X-REV's excellent pricing and its ZeroFriction Formula with ester base oil, I cannot ask for more.
Jason (Evo)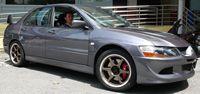 My comments on the new X-REV Racing 15W-50 with ZeroFriction API SM Formula:
1. Oil temp has yet to hover past 90-degrees mark even in standstill traffic. A revelation considering previously I was using the highly acclaimed Motul 15W-50 where the slightest provocation would sent the needle to the 90-degrees mark. You will need to be extremely lightfooted to keep the oil temp below 90-degree.
2. Usually once it hit the 90-degrees temperature mark, it is difficult to bring the temperature down. Not for your X-REV though. Once it hit 86-degrees, it will quickly drop back to 84-degrees.
3. Your lubricants seems to have the characteristic of a very thin vicosity lubricants (0W-20) – extremely responsive in the first two gears. There is a sense of urgency previously unfound in my car as if the car is eager to hit its power band. I'm confident there are some torque gains from using your 15W-50 because it is pretty obvious.
Overall I'm very impressed. Definetely the most under rated lubricants on the market.
Ren (WRX)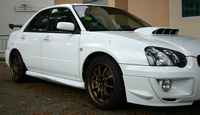 X-REV Racing 0W-40 with ZeroFriction. Smoother & Quieter Engine!
After switching to X-REV Racing Formula 0W-40 with ZeroFriction, I noticed my oil temperature never exceeded 80 Degrees Celsius even under hard driving (when previously it was between 85 and 90). My oil pressure also remained at a constant 30-70 PSI. Overall, my car has definitely much more torque and punch than before, plus it is also incredibly quieter and smoother even after I've clocked 4,000km. Three thumbs up for X-REV!
Ben (GOLF GTi)
I had an engine oil change at Stamford Tyres recently using the X-REV Racing Formula 0W – 40 with ZeroFriction. What I can tell you is that I am really, totally impressed with the engine oil produced by your company. These are my findings:
a) My car now feels smoother.
b) The engine is much quieter.
c) Drop in temperature from the normal range.
d) Engine stress is less felt.
e) Cruising speed now feels like floating and most remarkable and outstanding is I managed to clock a tremendous 450km on my half tank than a usual 360 – 400km. By the way my ride is a manual transmission.
I will not to switch to any other brand apart from X-REV. You guys proved in this new age what the auto world really needs. Definitely, a good lubricant.   Keep up the good work. Will give you my continuous support and will not hesitate to recommend it to my fellow Matrixians.  
Salizal (Matrix)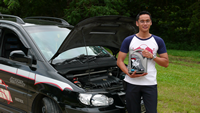 Oil temperature during normal driving – 80-90 deg C. During high rev driving in Sepang – 100-110 deg C  which Is about 5 – 10 deg C lower than all previous oils that I have used. Engine is noticeably quieter and smoother, and was able to generate more torque/power. Overall, I am very pleased with the X-REV Track 50 and will not hesitate to use it for my next oil change. I have been using M—- (from France) for the last one year but I must say there is a positive improvement in the X-REV Track 50 with ZeroFriction over M—-brand
Ben (WRX STi)
I drive a Toyota Harrier 2.4 (2WD). After having used X-REV Racing Formula 0W-40 ZeroFriction, my observations are:
1. Morning/hot starts are quieter and smoother.
2. Revs are more responsive from 0-3000 RPM.
3. Acceleration from rolling speed is faster.
4. Lesser blow-by oil/gas recirculating back to intake manifold.
5. Better NOACK volatility by sight.
6. Lower intake temperature (due to non-recirculating blow-by waste).
7. No loss in oil volume (By sight).
8. Retains same golden hue in colour after running hard for 1800km. Contaminants suspended in the oil.
My Harrier has done approximately 87,000km to date and my driving habits places a lot of stress on the engine with various bolt-on parts. Constant driving at speeds above 100km/h with rapid gas pedal movement ie. cruising at 2000rpm and sudden acceleration to 5700rpm. This is done on a daily basis. Rain or shine.   I have tried Esso, Shell Ultra Helix, Mobil 1, TRD Racing, HKS NA, FK Massimo, Castrol SLX and Royal Purple, with viscosity ranged from 0W30 to 5W50. They were all not up to my expectation.   Each oil change was checked at every 600km mark with new oil filter change and ALL brands turned out SUPER BLACK-BLACK and the feel of the engine seems to be rougher and oil consumption degrading greater. Fuel consumption was not good and blow-by oil was quickly accumulating in the PCV track and recirculating back to intake manifold (not good for power!)   Someone mentioned to me detergents being the reason for the BLACK colour but I disagree. X-REV Racing Formula did not change in hue after 1800km of gunning the engine!   Shearing stability must have improved based on the above observation.   Overall, I will personally continue to use X-REV Racing Formula with its proprietary ZeroFriction Engine Treatment additive plus Group-V ester based oil. I know it works because I see it work. The End of oil search for me…. I strongly recommend to all closet racers out there.
Amos (Harrier)
After using X-REV ZeroFriction 0W-40, my car is a lot smoother and the pick-up is much faster. The power comes on without any hesitation, My wife has even noticed a remarkable increase in power when she drives the car, so much so that she has to be more lightfooted when accelerating. The engine also doesn't strain as much going uphill and the gears change more smoothly. My fuel consumption also seemed to have improved by about 10%.
Michael (Renault Scenic)
My 5 year old Vito van suffers from loss of power through years of running up and down Malaysia. But immediately after using X-REV ZeroFriction 0W-40, I could feel the power and smoothness from the engine again, especially going uphill. The engine is also quieter. It is like getting a brand new engine!
Kelvin (MB Vito)
I could feel the difference during acceleration – my Lancer which has quite a noisy engine after clocking many kilometres, is certainly revving much more smoother and with more power. The engine is also noticeably quieter. X-REV ZeroFriction 0W-40 has definitely made a difference.
Andrew (M Lancer)
Using X-REV ZeroFriction 0W-40 in my Alfa 156 has allowed my engine to accelerate smoothly throughout the entire rev range to the redline (7,000rpm). The engine is also quieter, which is amazing for an Alfa Romeo. Even the workshop manager who tested my car has noticed that the engine revs much more smoothly compared to similar models. Driving an Alfa which revs so smoothly makes the experience all the more pleasurable.
YF (Alfa Romeo 156)
My E200 is not known to have a smooth engine. But after using Xrev ZeroFriction 0W-40, the engine is really smooth when accelerating and there is certainly more power for my under-powered car. I can also barely hear the engine noise now. Xrev ZeroFriction is exactly what this car needs.
Albert (MB E200)
Using X-REV ZeroFriction 0W-40 has certainly made my engine smoother and quieter. We even verified the improvement using a Cirrus Impulse Sound Meter and found that the engine is about 5% quieter (inside the car) after using X-REV. Further, the car also has more power accelerating uphill even on 4th gear. What a difference ZeroFriction has made!
Wee (T Corolla 1.6 M)
I have experienced better pick-up and lower fuel consumption after using X-REV ZeroFriction 0W-40. The engine is also much quieter when cruising along the expressway.
Jass (Matrix)
XREV RACING 0W-30 with ZeroFriction. Better Engine Response and Improved Fuel Consumption!
I recently tried the Xrev Racing Formula 0W-30 with ZeroFriction on my KIA Sportage 2.0L (2006) Auto Transmission with mileage at 12,500km. After 2 weeks of monitoring, my observations are as follows:
1. Engine better response.
2. Gear Change smoother.
3. Engine runs much quite at both idle and high revs.
4. Fuel Consumption improve average of 5 – 8 %.
5. Before changing to Xrev, morning cool start and drive, the engine felt sluggish; but after using Xrev, morning cool start and drive much better, can tell from the engine sound and response.
Overall Comment – Thumbs Up !!!! Excellent…
Kenneth (K Sportage 2.0L)

Trusting your advertising and with your encouraging email, I've actually serviced my car at Stamford Tyre Changi specifically with Xrev 0W-30 witj ZeroFriction and I must say right now I am even more impressed by its performance. I am in KL now and my driving journey was extremely smooth with Xrev. I've all along used Helix Ultra and its not even 25% as impressive as Xrev apart from the rating of the oil given as SM/CG, I find Xrev is leaps & bound smoother and my car is very happy indeed. But more importantly I find that there is no more vibrations at idling speed, my rpm is always ready to shoot (better free play) and in fact I'm somehow or rather experiencing very smooth gear changes. I am a convinced customer and I am very impressed with Xrev and lastly I truly appreciate your reply to me, you have been very kind and helpful indeed.
Joseph (K Cerato)
Upon introduction of Xrev 0W-30 ZeroFriction, the greatest thing was the silky smoothness of the car, feels like the day when I collected the car from the showroom. I do feel the added power when I rev up and accelerate, and even then the engine mantains it's smoothness. Friends who sit in my car also noted that the engine is quieter.
Daniel (T Wish)

Xrev 0W-30 ZeroFriction has made a significant difference in engine performance for my Latio, which has a relatively poor pick up. Now my car accelerates smoothly with more power. Overtaking is a lot quicker and even with the engine running above 3,000 rpm, the noise level is less harsh and there is much less vibration. Cruising along the expressway is also a lot quieter and smoother, so much so that it feels like you are traveling at a much slower speed.
Paul (Latio)

Xrev 0W-30 ZeroFriction gave me the immediate benefits of a faster acceleration when needed, petrol savings, a smoother and quieter ride. Petrol savings are approximately 5%.
Robert (M Grandis)