X-REV MOTORSPORT RACING PERFORMANCE
The X-REV Motorsport Racing Performance is an all new range of race oils that ultra performance for race tuned engines, enabling additional BHP and Torque to be maxed out of the engine block.
Highly recommended by racing teams for all racing gasoline or diesel engines, naturally aspirated or turbocharged fitted with injection (direct / indirect) or carburetted. Specially formulated for race tuned engines operating in extreme conditions of high rpm and temperatures.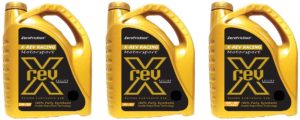 XTREME DPE Technology
X-REV Motorpsort Series features a combination of different ultra high performance ester base stocks blended using a unique process of heat and pressure called the XTREME DPE technology, thus resulting in an extremely stable base stock formultion that far surpasses other fully synthetic blends including regular polyol ester base oils in terms of outright performance.
Unique Advantages:
1. Stable oil pressure and superior oil temperature control under extreme conditions;
2. Contains special proprietary ZeroFrictionTM Engine Treatment  additives which enhances high revving performance, as well as reduces wear and tear; and
3. Premium polymers with 0% shear loss.
For sustained high boost and high revs, nothing beats the X-REV Motorsport Series Track 40 & Track 50 for better outright performance and endurance.
X-REV RACING SYSTEM 3 SPECIALTY BLENDS
X-REV System 3 is a unique 3 step process to keeping your engine operating in an optimal condition:
STEP 1: Clean Your Engine. Pour in the whole bottle of the X-REV Superb Engine Cleaner into your engine to mix with the existing engine oil. Start the engine and drive it or let it idle for 5-10 minutes. During this time, the Cleaner will dissolve the sludge, varnish and tar as it circulates throughout the engine. When your workshop mechanic drains the existing oil, all of that gunk will flow out. After a quick replacement of the oil filter, you are ready for the next step.
STEP 2: Treat Your Engine. The all new X-REV Pre-Blended range of lubricants now comes pre-blended with ZeroFriction Engine Treatment. Now you get all the benefits of a smoother, quieter, and more powerful engine with the added convenience.
STEP 3: Lubricate Your Engine. With the added convenience of the pre-blended ZeroFriction Engine Treatment, pour in the X-REV Racing Lubricant up to the desired mark on your dipstick. Check the oil dipstick to avoid any accidental overfilling.
XREV System 3 Lubricant has been formulated for high street performance engines that frequently explore the peak rev range. It's unsurpassed blend includes :
Top-grade viscosity index improvers which provide excellent high temperature and high shear stability to deliver excellent oil film thickness and engine protection at high operating temperatures and shear rates. This ensures that the oil does not breakdown easily. Superior Additives that clean and protect the engine in harsh heat and high humidity conditions are also included in the special blend as part of the performance package.
Premium Performance Fully Synthetic Base Oil which contains Complex Ester (Group V) – the most expensive and most stable base oil even under extreme turbo-charged conditions.
X-REV System 3 is available in 6 viscosity ratings:
0W-40 for cars more than 75,000km. Recommended for Japanese and Korean engines. This is the standard rating for cars operating in Singapore for optimal protection of the engine (recommended for high-revving performance v-tech engines and light pressure turbo-charged engines. Also recommended for CNG and Euro V diesel engines).
Note: The 0W-20, 0W-30 and 0W-40 versions are zero-weighted oils at 40 deg centigrade to allow faster circulation at cold starts and better protection.
ACEA A3/B3/B4/C3
BMW LL-04
MB 229.3/229.5
Porsche A40
VW 505 00
X-REV is designed for maximum Street Performance. X-REV provides the ultimate protection for daily driving conditions especially in tropical conditions. X-REV's formulation maximizes the performance of your engine.
X-REV Lubricants are suitable for normally aspirated and turbo-charged high performance cars as it provides unrivalled levels of protection as well as maximizes the performance from your car in terms of power, torque and reduced fuel consumption.
EVO Engine Treatment Lubricant 
EVO 5W-40 – The Evolution of Engine Lubricants is the perfect synthesis to create that precise balance between Performance and Protection for your engine. If you have never been fully satisfied with the lube that your workshop puts into your engine, then evo is your answer. Created by Xtreme Lubricants Lab for the everyday car, EVO is blended with the very high quality Group IV fully synthetic base stocks, polymers and additives which are extremely resistant to high operating temperatures and oil breakdown, as well as the proprietary ZeroFriction Engine Treatment Additives which forms a protective micro-film layer on the metal surfaces inside your engine. The result is a really smooth engine, and improved torque for better pulling power on tap.
EVO also has a selection of lubricants formulated for modern diesel engines, such as:

i. EVO 10W-40 – a fully synthetic lubricant developed for the latest high performance diesel engines which meet EURO 5 and EURO 6 emission standards. Formulated with low sulphated ash base oil and additives, it is designed to withstand turbo diesel requirements and at the same time protect diesel particle and NOX filters.
ii. EVO 15W-40  – a high performance lubricant for diesel engines with EURO 4 emission standards or earlier. Suppresses engine oil consumption for high mileage fleets.